44% of the World's population lives within 100 miles of a coast, so Mercy Ships represent the most efficient way to bring a state-of-the-art hospital to areas where medical facilities are limited or even non-existent.
This is very relevant to Africa where people are more than twice as likely to die from surgery complications and millions experience health related social and economic decline.
TPV Cares helps to provide free surgical procedures and direct medical care to thousands of people.
Find out more about Mercy Ships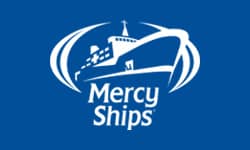 TPV Cares & Mercy Ships have created eLearning programs in Guinea.
Not everyone is able to join the Mercy Ships Medical Care Building (MCB) programme so eLearning has become a fundamental training component. TPV Cares has supported the creation of elearning activities by providing displays, monitors, headphones and soundbars to equip the new eLearning centers.
The first such training centre to be opened as part of the programme is the Gamal Dental Clinic in Guinea which has become a destination for students from throughout the region, with attendees also from neighbouring countries like Niger, Djibouti and Cameroon.
Over 30 dentists have already completed the 18-month training program with Mercy Ships, and are now ready to provide dental health care to thousands of people.
TPV Cares supports dentist training in Senegal and, having already begun in 2022, the programme aims to significantly improve the access to oral care in Senegal.
TPV Cares has partnered with Mercy Ships and the Improve Foundation in Senegal to offer support to the dental care federation, UCMPS.
The initial target is to enrol and train 20 dental professionals over the next four years, which should allow at least 10 dental clinics to be either opened or existing ones to be improved. With three students having already started the program to become dental professionals.
In addition to support equipment, Philips televisions and displays have been installed in the waiting rooms of the dental clinics to show case dental care prevention programs to the many patients waiting to be treated.